green and gold shampoo bar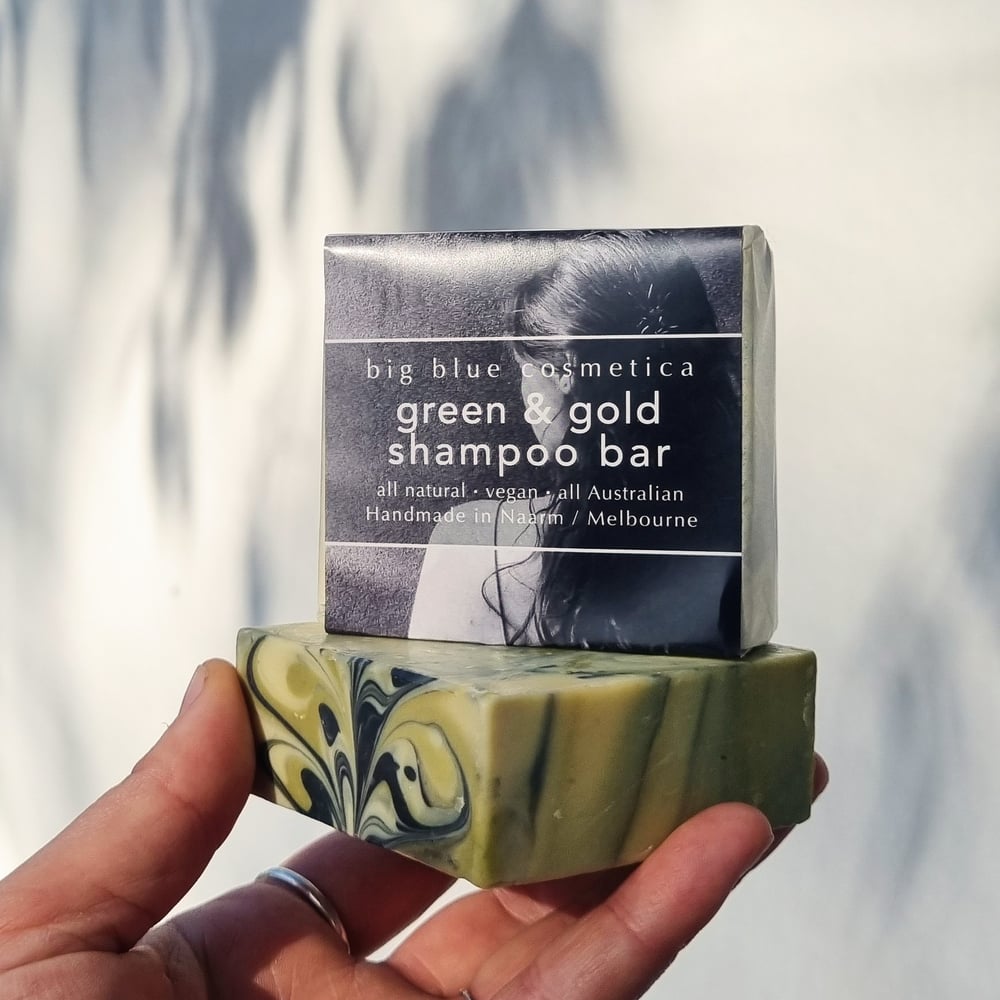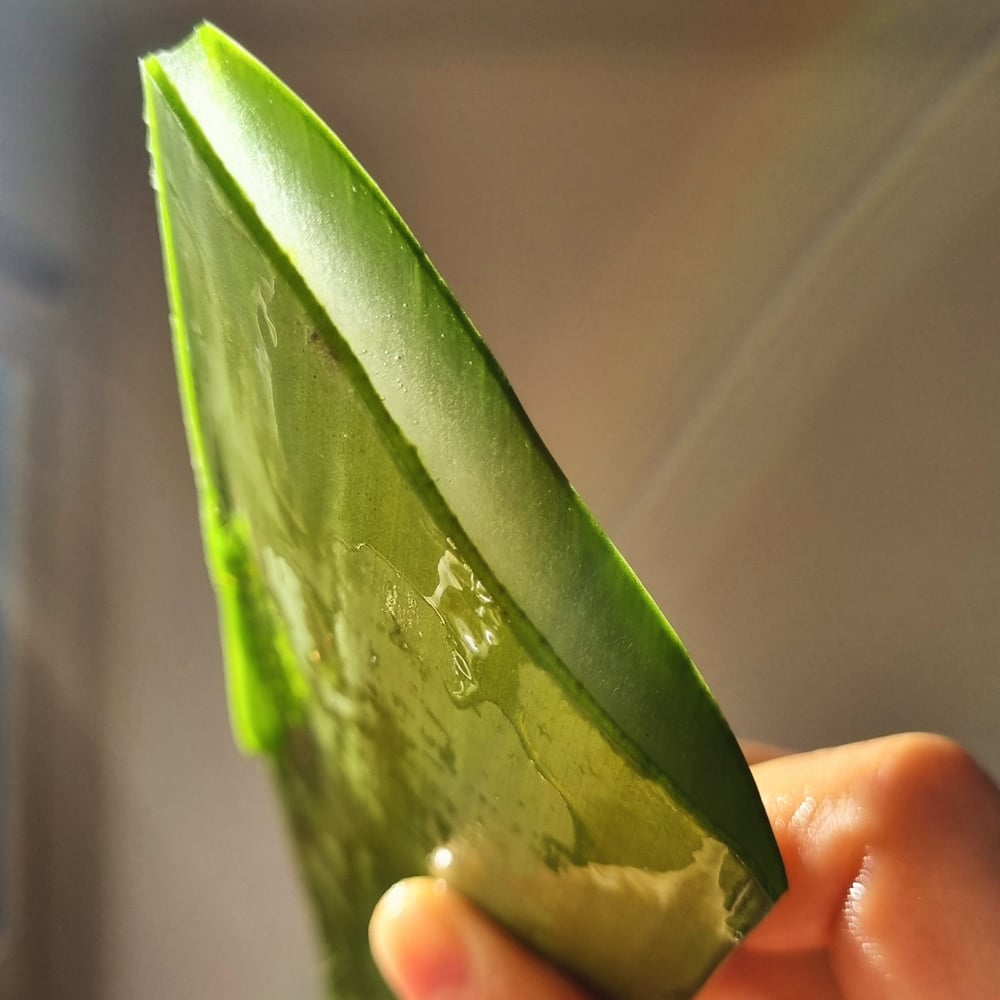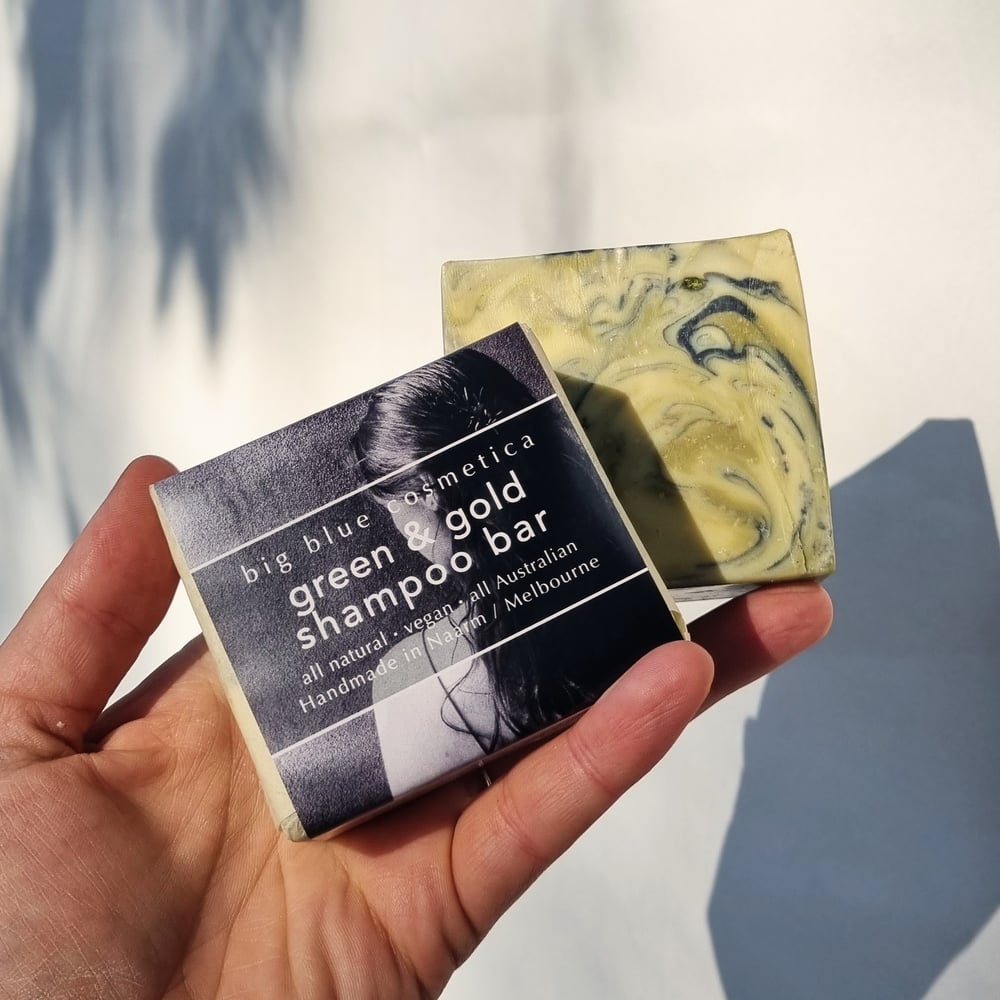 The ultimate conditioning solid shampoo bar made with fresh aloe vera juice, avocado oil and now with provitamin B5, great for all hair types that is just as wonderful for the whole body - even gentle enough to use as a facial cleanser. Lasts ages, perfect for travelling and clears your bathroom of more plastic bottle clutter. Step out of the shower with hair and skin that feel silky soft and smell divine.
With a luscious, hydrating lather thanks to the fresh, organic, locally foraged aloe vera juice and a highly nourishing blend of organic olive, avocado and sunflower oils to gently cleanse hair without drying out or overly stripping the scalp. Pro-Vitamin B5 is THE ingredient for haircare - helps to strengthen and condition as well as soothe the scalp. Leaves scalp and hair feeling clean, soft and shiny, no heaviness, plenty of lather, safe for sensitive skin. Scented with all natural Australian essential oils grapefruit and native rosalina, for a fresh, herbal aroma.
TO USE:
Lather up in hands to use on face, body and hair or gently rub wet bar onto wet hair at the roots, work up a good lather and rinse well. If your hair is longer, glide along the lengths too. Depending on how frequently you wash your hair with shampoo (we recommend once a week at most - less is best to allow your scalp to regulate its natural oils!) or how oily / dirty your hair is you may find it better to lather up and rinse twice, first round to loosen the greasiness, second round to leave hair truly clean and soft. In between washes it's good practice to regularly comb or brush your hair from the roots as this helps stimulate the follicles and balance those important natural oils.
BUNDLE + SAVE
This bar has been formulated by a curly girl chemist to do the work of a conditioner AND shampoo (cos we're lazy and like an all-in-one product) but if you have curly or very dry hair or scalp, we highly recommend using a preconditioning oil before shampooing. The chia seed hair tonic is perfect for this, and can be used as a leave-in conditioner / styling oil too.
Simply distribute a small amount of the tonic through strands and scrunch into ends while hair is still wet. To use as a pre-conditioning oil, pop 5-6 pumps directly into scalp, massage vigorously into roots and brush through to distribute through to ends. Let it absorb into the scalp to nourish those hair follicles for as long as you can be bothered (10mins is good, overnight is better) then lather up in the shower and wash as normal. The combination will leave your scalp extra hydrated and happy and your hair silky soft. If you have shoulder-length hair and typically wash it 2-3 times per fortnight, this duo should have your haircare needs sorted for at least 3 months.
Buy both for $38 and save $3.
VEGAN
ALL NATURAL
100% AUSTRALIAN INGREDIENTS!
saponified oils (organic olea europaea (olive) oil, helianthus annuus (sunflower) seed oil, persea gratissima (avocado) oil), fresh aloe maculata juice, raw organic sugar, sodium citrate, essential oils (citrus paradisii (grapefruit) and melaleuca ericafolia (rosalina)), natural colourants (organic wheatgrass, activated charcoal), panthenol (provitamin B5).
These are natural, handmade soaps and your bar may not appear exactly as in the photo - small variations in colour / pattern occur naturally in each bar. As they are hand cut each bar tends to weigh between 130 - 140g.
Please use within 2 years of purchase, store away from direct sun and allow to dry between uses to prolong shelf life
Select whether you'd prefer your bar naked (no wrapping), or wrapped with tissue paper and a paper label (printed with non-toxic inks and adhesives = fully biodegradable wrapping).
REVIEWS:
'It's brilliant. I hadn't tried shampoo bars for the longest time because unless they had SLS in them, they didn't lather up and get through all of this hair properly, but this one, this must have magic ingredients in it! It's so fantastic, I can't recommend it enough' - Coco, who loves my green and gold shampoo bar for her long thick hair
'Soooo omg just have to tell you i used the green and gold shampoo bar for the first time washing my hair tonight and i am IN LUVVVVVV!!!! My hair has never felt this clean and healthy in my life. Everything about it is perfection, the way it lathers (so easily!!!), the way i dont even to use that much on my thickkkk hair... I'm so in awe and I'm swearing by it from this moment on! I have naturally very thick hair so I always burn through products because I need to use huge amounts but this soap has changed my life' - Haze
'Thanks once again for delivering so promptly my goodies. My wavy unruled hair was in desperate need of your [green and gold] shampoo bar. It just came back to life!' - Cami