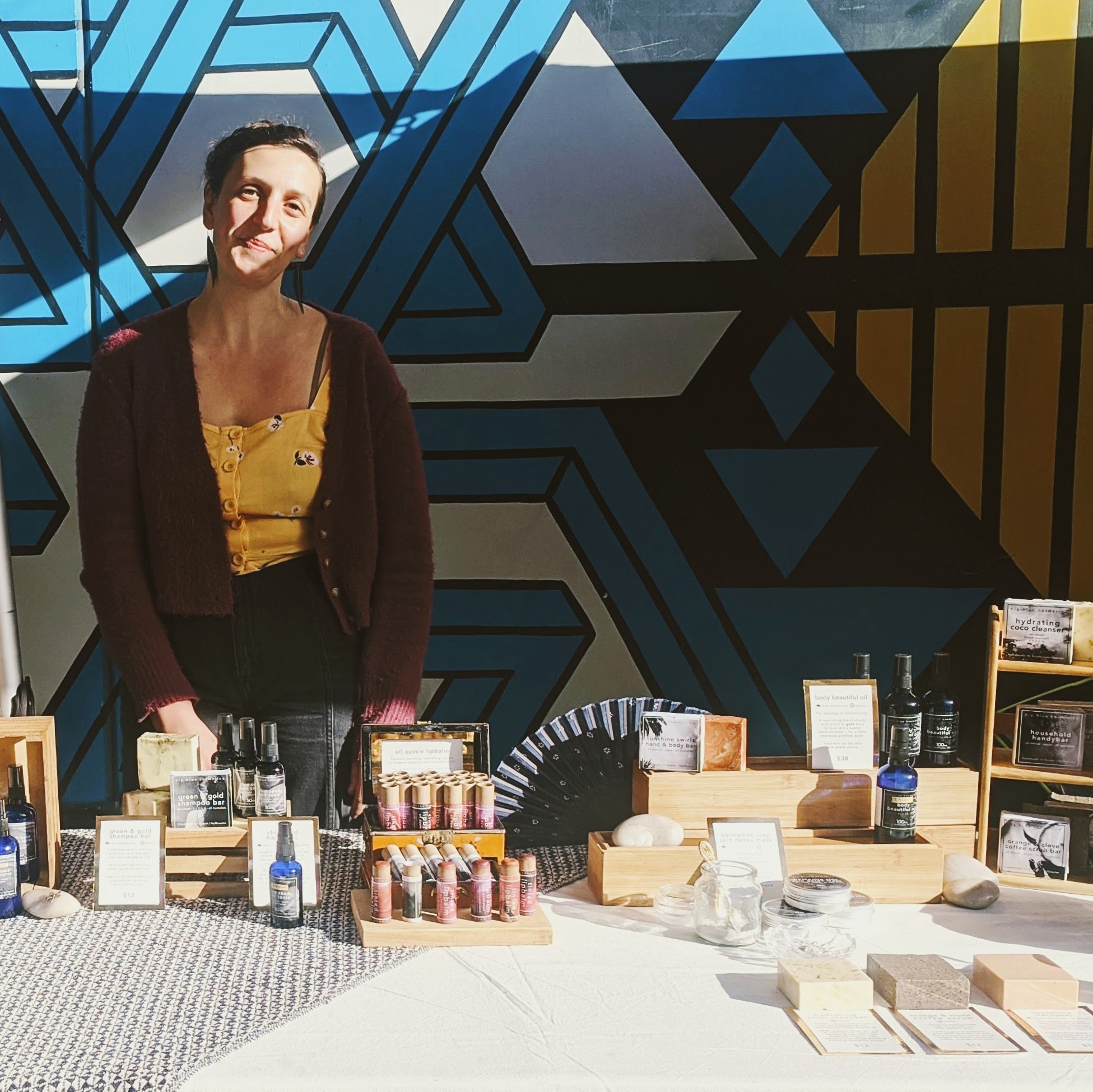 Why hello there.
Welcome to this humble online store.

If you are:
tired of the greenwashing but trying to find the truly eco-minded brands out there
looking for skincare that actually performs and doesn't just smell nice / look pretty
love shopping local and supporting the passionate, dedicated, quality-obsessed little guys over the irresponsible, exploitative, profit-driven mega corps...
we're with you, and you're in the right place.
Big blue cosmetica is an Australian skincare brand started in 2018 by Tina, a proud environmentalist with a background in design, a huge passion for chemistry (which she is currently completing a Bachelor of Science majoring in and hopes to use as a tool to solve some of the complex problems of our broken world), big time upcycler and DIY proponent, and all into this zero-waste lifestyle thing. Proud compost manager / worm mama of her apartment block, all weather cyclist, friendly neighbourhood guerrilla-gardener and always down for the climate justice chats.
Fuelled by a growing concern for our environment and all the plastic waste we put into it
, she started teaching herself to formulate her own skincare, haircare and home cleaning products so that she could refill her empty bottles rather than condemn yet another perfectly functional plastic bottle to landfill via the 'recycling' bin. At least this was the crazy little idea that started it all.
From the beginning, the mission has been to create cosmetics that are:
effective
at doing what they are supposed to do - at least as effective as the commercially available alternatives if not more so! Periodically you may notice changes in the ingredients lists as we make small formula tweaks, persistenty striving to make the next batch as good if not even better than the last. We're super grateful for feedback which helps us continue to make these products The Best out there (so please reach out!)

safe
for humans to use and absorb into their skin, and for fishies / other organisms once washed down the drain. Everything is formulated to be extra gentle for sensitive skin and those sensitive to fragrances, limiting the essential oil content to <0.5% (less than half the recommended safe maximum), using ethical lab-made micas over natural micas and using many ingredients known for their natural anti-inflammatory properties. The aromas in our products are perhaps more subtle as a result, and some completely unscented. We believe skincare should perform well for your skin first, not your nose

and
sustainable
sourcing ingredients locally as much as possible to reduce our carbon footprint and support local producers, many from indigenous-owned businesses, many also wild harvested here in Naarm / Melbourne by Tina's own two hands. Dedicated to eliminating waste both with the packaging / postage material put out into the world and the packaging received from deliveries and making regular monthly donations to back the organisations and charities on the front lines of the climate justice fight who do the bigger picture work that we all need to get behind.

______________________________________________________________________________________________
All products are lovingly handmade here in Naarm / Melbourne, Australia.
From the many testimonies of loyal customers around the country as well as my own personal experience I can verify - these products work! Well! If it's available on this site, it's because I love using it myself, and know plenty of other people who do too. For more reviews head to our Facebook reviews, the 'effective' highlight on our Instagram bio or our Google page - where you can leave a review too if you'd like.
Thank you for visiting this page, and hoping you enjoy these products as much as I do!

Tina (she/her)
Founder and formulator