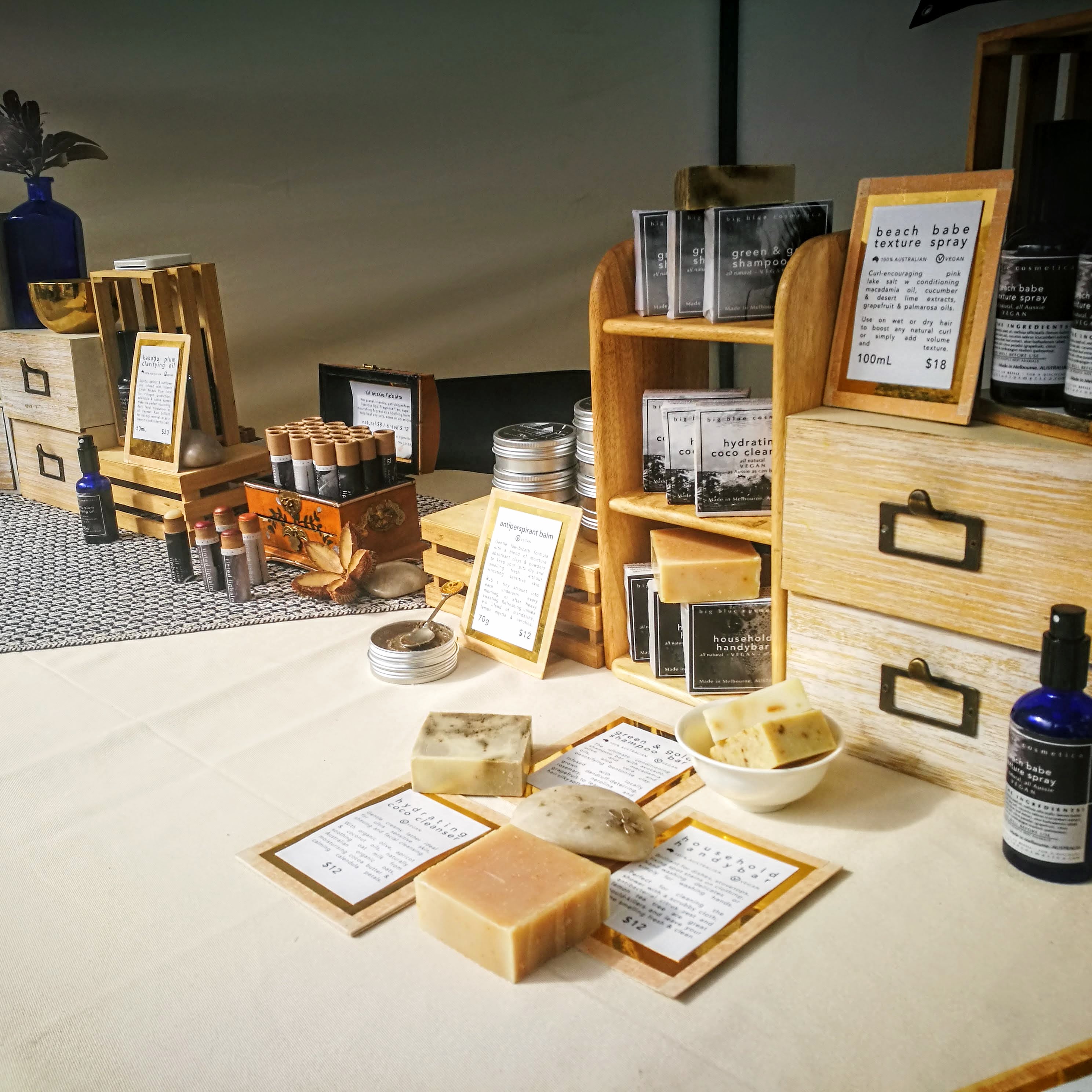 U P C O M I N G M A R K E T S

Zero Waste Festival 2022!
The Edge and The Atrium
Federation Square, Melbourne
10am - 6pm
Saturday 17th September
zerowastevictoria.org.au/

Rose St Artists Market
60 Rose St, Fitzroy
10am - 4pm
rosestmarket.com.au
Sunday 23rd October
Saturday 29th & Sunday 30th October

The Trust Maker's Market
Ripponlea Estate
192 Hotham St, Elsternwick
10am - 3pm
trustmarket.com.au
Sunday 18th September
Sunday 16th October
Sunday 20th November
Sunday 18th December

Bonbeach Farmers Market
26 - 63 Breeze St, Bonbeach
8.30 - 12.30
bonbeachfarmersmarket.com
find me there:
Sunday 11th September
Sunday 9th October
Sunday 13th November
Sunday 11th December

Bourne Local Collingwood Market
21-53 Hoddle St, Collingwood
11am - 4.30pm
bourne-local.com.au/collingwood-market
find me there:
Sunday 25th September
Sunday 27th November

St Kilda Esplanade Market
The Esplanade, St Kilda
10am - 5pm
stkildaesplanademarket.com.au
find me there:
Sunday 4th September

St Andrews Community Market
1 Proctor St, St Andrews
9am - 2pm
standrewsmarket.com.au
find me there:
Saturday 24th September

Emu Plains Market
Emu Plains Reserve, Balnurring
9am - 2pm
emuplainsmarket.com.au
find me there:
Saturday 15th October
Saturday 19th November
Saturday 17th December
Saturday 21st January (special twilight market 3-8pm)
Saturday 18th February
Saturday 18th March
Saturday 15th April
Saturday 13th May

Little Beauty Market
Beauty Park, Frankston
9am - 2pm
littlebeautymarket.com.au
find me there:
Saturday 24th September
Saturday 22nd October
Saturday 26th November (special twilight market 5-10pm)
Saturday 10th December
Saturday 28th January (special twilight market 3-8pm)
Saturday 25th February
Saturday 25th March
Saturday 22nd April




S T O C K I S T S
VICTORIA

The Pickle Pot
109 Johnson St
Kurnai Country
Maffra
facebook.com/ThePicklePot.com.au

Palm Oil Investigations Ecostore
58 High St
Dja Dja Wurrung Country
Eaglehawk
poiecostore.com.au

Friends of The Earth*
312 Smith St
Wurundjeri Country
Collingwood
melbournefoe.org.au

QVWC SHOP! (pictured above)*
210 Lonsdale St
Wurundjeri Country
Melbourne
shop.qvwc.org.au

In2Skin Dermal Therapy
469-275 Centre Dandenong Rd
Boonwurrung Country
Dingley
facebook.com/In2SkinBeauty

Where The Wilde Things Are*
4 / 540 Mt Dandenong Tourist Rd
Wurundjeri Country
Olinda
wherethewildethingsare.com.au

Simply Ingredients
76 Silverdale Road
Wurundjeri Country
Eaglemont
instagram.com/simply_ingredients_au

QUEENSLAND

The Guillotine Hair Artistry
1 / 5 Forest Park St
Gubbi Gubbi Country
Meridan Plains
facebook.com/theguillotinehairartistry

English Country Gardens B&B / Cafe and Gift Shop
2934 Springbrook Rd
Yugambeh Country
Springbrook
weekendnotes.com/english-gardens-springbrook/

NSW

Aware...the social design project
Prime West Centre, Shop 14
41-45 Macquarie St
Awabical Country
Newcastle
awarethesocialdesignproject.com.au

ONLINE

Pure Objective
pureobjective.com

Pantry Wise
pantrywise.com.au

Moppy and Eco
moppyandeco.com.au

AusBox
ausbox.net.au

Branches of Me
branchesofme.com

*these stockists accept my empties, and you can redeem your $2 discount when you shop here. See 'important to note' page for more info on returning empty bottles and tins. Please note not all stockists have all of my range all the time, best to call them if you're after a specific product.